The Silver Spirit
We came aboard the Silver Spirit on June 10, 2015. The Spirit is the largest ship in the Silversea fleet at 540 passengers. On our back to back cruises the ship was near capacity for the first itinerary and a little less on the second itinerary out of Istanbul.
She is beautifully appointed, well maintained, and has larger venues than the Silver Wind. As we chose another port intensive cruise, we only spent afternoons and nights around the ship. Days were off the ship exploring!
Here's some photos from the ship
| | |
| --- | --- |
| | |
| Silver Spirit arriving the morning of June 10 - we saw her from our hotel | Arriving by Water Taxi |
| | |
| | Our Veranda Cabin - 718 |
| | |
| The closet - sufficient and organized | Bathroom has a separate shower (look at mirror reflection) and tub is to the left behind the door |
| | |
| Main Dining Room | Pool Deck |
| | |
| Panorama Deck - great sitting area in the evenings! | Panorama Lounge |

This will be our first time on the Spirit. It's a little larger than the Wind, but still only a maximum of 540 passengers. As a larger ship there will be two more dining venues - Stars Supper Club and Seishin for Asian Fusion cuisine. We are excited about some new experiences, but we are really looking forward to the Grill on the Pool Deck. June in the Mediterranean should be a lovely time for outdoor dining!
Our cabin is on the 9th deck so we are a short walk out to the pool. Perfect location for us.

| | |
| --- | --- |
| | |
| Silver Spirit Deck Plan (click for larger version) | Veranda Suite |
| | |
| | The Restaurant |
All photos above from Silversea website

Trip Itinerary:
Here are the maps and itinerary for our travels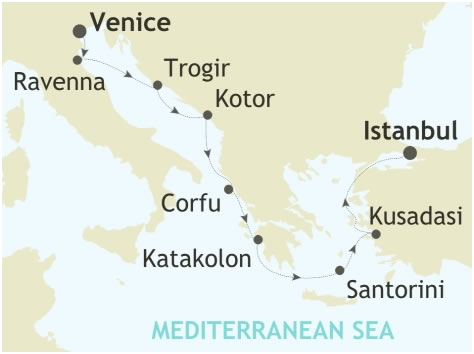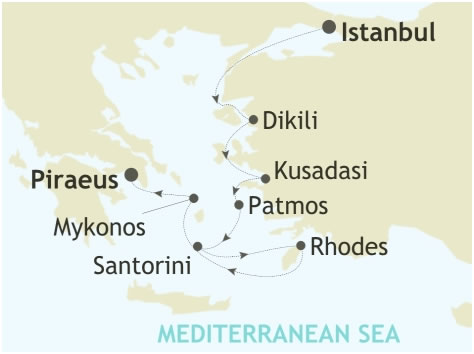 Maps from Silversea website