Mediterranean Cruise - Athens to Venice to Rome
Update 17 August 2014: The trip was all we hoped it would be - fantastic port visits, great time on the ship and new friends. See the port pages for photos and the daily diaries of the trip! CLK

Pre-Cruise Posts
Update 16 March 2014: Flights are revised due to changes in the itinerary and now we are round trip through Philadelphia on both legs. I've also established this page for the entire trip, not just the cruise portion which is 10-28 May. We will depart home on 7 May and arrive to Athens in the morning of the 8th. After transferring to the Hotel Grande Bretagne, we will have a day and a half to explore more of Athens and definately re-visit the Acropolis. As we did not have time to go into the New Acropolis Museum - that's on the list for this trip.
Update 26 January 2014: We have our flights booked and we've started to look and pre-book our shore excursions.
The merger of American Airlines and US Airways turned into a real benefit for us. We never would have thought of US Airways for overseas travel, but we can actually make the trip in 2 flights each way! Amazing.
So, we leave here in the morning on 7 May and change planes in Philadelphia. Direct flight into Athens, Greece and we arrive there around 9:00 am. We gain a whole day in Athens as most flights would get us there around 4 - 6 pm. Our return from Rome will be through Charlotte on 30 May and we will get back here around 8:30 pm. About 16.5 hours travel on both sides - going and coming! Not only will this be easier, but we will save nearly 8 hours with of "travel time" versus other arrangements. We are thrilled!
We are working through excursion selections also. We've made reservations for Kusadasi, Nafplion, Katakolon (Olympia) and Kotor. Still checking out the others. The port pages have been updated with our selections. Dubrovnik, Hvar, and Split Croatia stops we can self explore easily. Looking at travel guides and the shore excursions from the ship we have identified our "must see" places and will have our maps at the ready! Venice will probably be the same. For Sorrento, we are checking with AP Tours who we used last trip about an excursion to Positano, Amalfi, and Ravello! So check back later for updates!

Update 6 October 2013: We've started researching places we want to visit at each of the ports. Some information has been updated to the port pages.
Update 22 September 2013: Port Pages are available through the links on the left menu of each page.
Update on 7 September 2013: Well, those of you who previously looked at our cruise plans for next year will notice that this is different. Yes, we changed our minds!
We found this set of back to back cruises on Silversea on the Silver Wind which we sailed in March 2012. After carefully considering the itineraries and comparing the first cruise we pre-booked, we decided that we would rather do this combination for a our Mediterranean cruise. It does mean we will be gone a little longer, but it has some "big" places we have wanted to visit.
Venice has always been the primary focus for our next adventure in Europe. Combining these two 9 day cruises affords us two full days in Venice as the itineraries meet there. We start in Athens but then visit one of our "biggies" - Kusadasi, Turkey. We both have really wanted to visit Ephesus, and here it is! There is a bit of duplication of ports - Dubrovnik and Kotor - between the two, but this affords us the chance to not run at break neck speed in both of those locations. With only one true day at sea with the combined cruises, that's a good thing.

Pre and Post Cruise Schedule - We will stay in Athens for two nights before embarking on the Silver Wind and then allow two nights in Rome after we disembark. We've booked the hotels and transfers through Silversea.
| | |
| --- | --- |
| | |
| | Rooftop Terrace overlooks the Acropolis |
| | |
| | Rooftop Terrace overlooks Vatican City |
All photos above from the hotel websites
Incredible opportunities to go back to Athens and Rome!

Trip Itinerary:
Update on 7 September 2013: We changed up our plans and have booked back to back cruises for an extraordinary itinerary. We depart Athens on the first leg and end in Venice. Then the second leg starts in Venice and ends in Rome! What a cruise!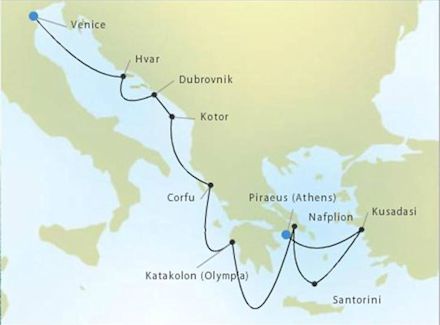 Maps from Silversea website
Day to Day Itinerary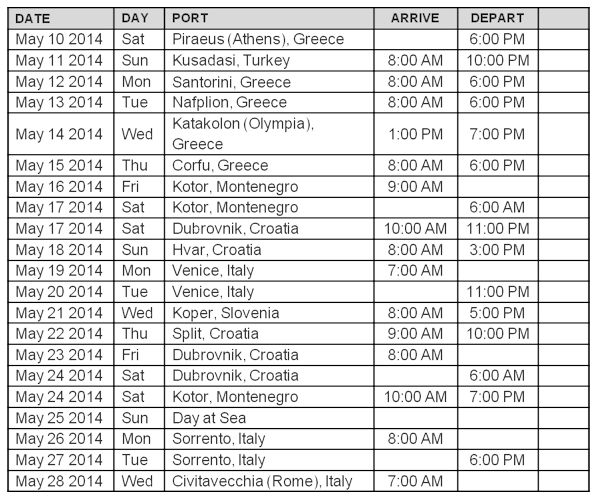 If you'd like to look for your own cruise click here -