Our trip to Barcelona and our Mediterranean Cruise
What an extraordinary adventure! We have returned from 18 days in a whirlwind of "OMG's" and "I can't believe we are here". Over the next several weeks or so, we will post photos and short descriptions of our trip and the experiences.
Our adventure started on Sunday 11 March with our flights from San Antonio to Dallas, then Dallas to London Heathrow, and finally London to Barcelona. We flew first class or "business class in Europe". The Dallas to London and London to Barcelona flights were on British Airways. The Dallas to London flight was on a 747, Carey's first time in a 747. The first class seats are actually called "demi-cabins" and create a private space for each person with monitor, fully reclining seat to a flat "bed" and small closet. Our first time on an overseas flight together, it was nice to be able to stretch out and sleep a bit, even though the adrenalin was fairly high. The food was fairly good on British Airways and the service was as expected.
| | |
| --- | --- |
| | |
| First leg of the journey begins! - 11 March | British Airways 747 - waiting for us to board |
| | |
| Carey - getting settled on the plane | Dinner is served! |
| | |
| Sun rising west of the British Isles - 12 March | Boarding Passes - All Used! |
Our flight to London landed slightly late due to some serious fog in the area! Imagine that! Getting through Heathrow is a challenge on a first attempt. We landed in a part of Terminal 5, had to go to the main terminal and go through another security check. England has different rules for small toiletries. While I had everything in a clear zipped bag, they made me separate it into two small bags, one of which Randy had to take as they only allow one small bag per person. Then at the checkpoint Randy removed his laptop, as usual, but I did not remove my Ipad. No signs said to remove that or headphones! The security folks pulled my bag and put me in a line with a checker that moved as slow as molasses. Randy was trying to find our gate, but the signage process is very unclear to the uninformed traveler. After 15-20 minutes they finally checked my bag, removed every item, re-scanned the Ipad and headphones and let me put it all back. We finally found our gate and the flight was delayed due to the fog. Lucky us!
We arrived into Barcelona about an hour later than scheduled, but our driver was there and waiting. He had already taken TJ and Amy to the hotel and returned to collect us. Very nice man and very reliable company - Autos Villar.
So we are off to the El Palace hotel! Click the link on the left for Barcelona.

Postings before the Trip:
Our dream vacation is on the horizon. We have booked a cruise on the Silver Wind for next March. We embark in Barcelona, Spain and disembark in Istanbul, Turkey so we will add a few extra days to the trip by arriving a day early in Barcelona and stay two extra days in Istanbul.
Our friends Amy and TJ, who we met on the Maasdam cruise, are joining us on this adventure. We both have made our flight and hotel arrangements. We may never get an opportunity like this again, so we are all making the most of it!
The itinerary has changed as of November. We will not be stopping at Heraklion, Crete. We will travel from Valleta, Malta to Athens, Greece with a day at sea between and then a day at sea before arriving in Istanbul. The ship will dock overnight on Monday the 26th, but we will still disembark as scheduled on Tuesday, March 27. This provides us an extra day in Istanbul.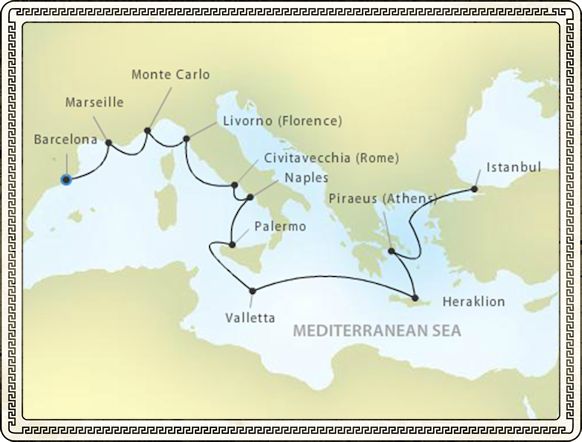 Revised Itinerary below. Updated map has not been posted by Silversea.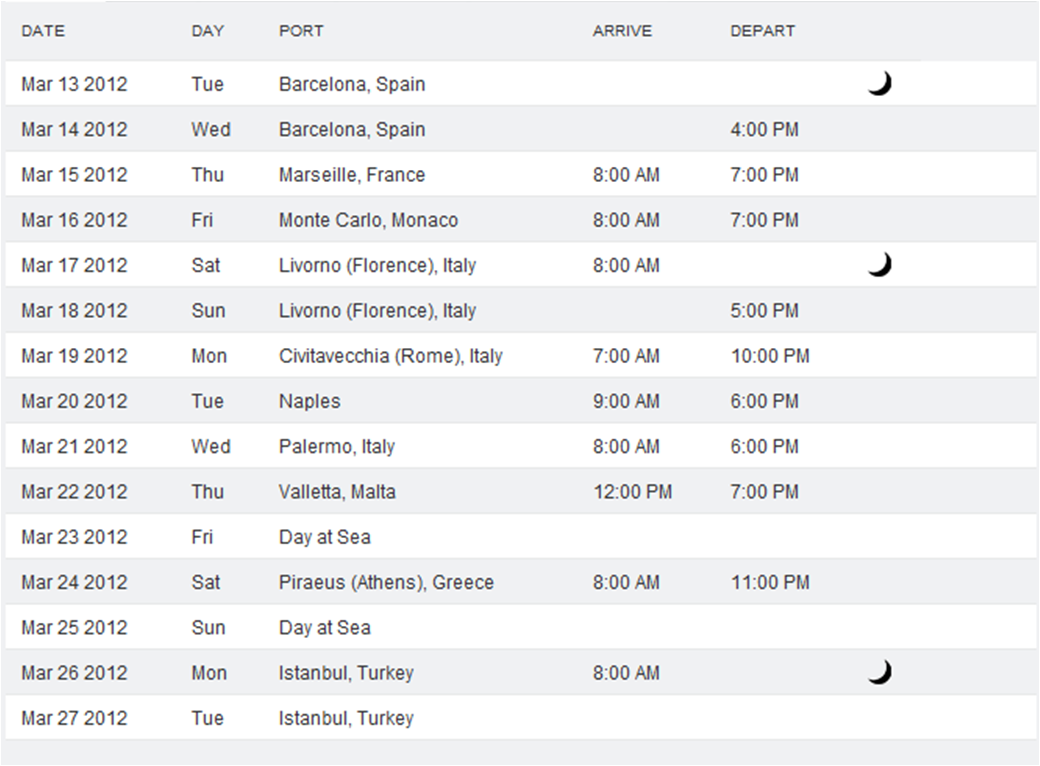 The links in the left frame are now active. Click on the location to go to the page.
Update 22 January 2012: New Year's Eve day TJ, Amy, Randy and I had a teleconference to review our options for shore excursions and make reservations. We had fun with all of us running our laptops, checking links, updating spreadsheets, and agreeing to excursions. The result was we made some great decisions on excursions and identified some additional research we need to do for Florence transportation, reserve private tour to Pompeii, and reserving a private tour for Athens. It was very exciting as we continue to get closer to the trip.
Descriptions of the tours we have selected are on the pages for those ports.
The next exciting event after scheduling our excursions was the arrival of our cruise documents just this past Friday (20 Jan). Silversea still sends out their documents through the mail while many cruise lines have fully converted to electronic tickets. The arrival of the cruise documents requires the "Document Dance". We thoroughly enjoyed ours. So what's inside the "Silver Box" from Silversea? Have a look -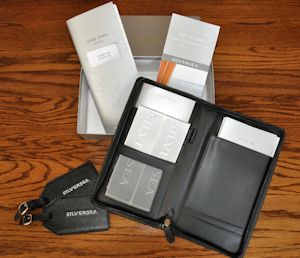 Moved from our home page, originally posted in 2012
Mediterranean Cruise Ports - Barcelona, Marseilles, Monte Carlo, Livorno (Florence (Firenze) and Pisa), Rome, Naples, Palermo, Valletta, first Day at Sea, Athens, second Day at Sea and Istanbul.

Our Vacation Overview - "18 Days in 7 Minutes" video