Naples, ITALY
Tuesday, 20 March
We arrived in Naples port bright and early this morning. The day was fairly clear with a temperature in the mid-60's F. Perfect weather for spending the day exploring.
Our tour guide, Alberto, from AP Tours, was waiting for us when we disembarked just before 9 am. He had a Mercedes mini van and a new guide who was in training. We loaded up into the van and headed out of port. Just getting out of the port in Naples is an experience. It is so convoluted and trucks driving everywhere that we would have spent all day just trying to find the way out!
The drive to Pompeii is very short, only about 30-40 minutes. As we drove, Alberto talked to us about the history and culture of the area. He stayed away from details on Pompeii as he had arranged for the private guide for us at the excavations.
We arrived at Pompeii and Alberto introduced us to Pina, the registered guide. We can't say enough about her. The tour was scheduled for two hours, but we actually spent about 2-1/2 with her. While we look back at the guide book and see there were a number of separate houses and buildings we did not see, we saw as much as you can see in that amount of time.
As we keep saying about our trip and visits to ports, it was incredible. Pina walked us through describing the time when Pompeii was active. How when they started digging for the site they focused too far away. Pompeii was actually a coastal town, but the ash filled in the area and moved the coast line out. So they originally dug close to the sea, which was far away from the city. Pompeii joined the Roman res publico as an ally in the 340-290 BC time period. But it is one of the few "Roman" cities without a sewer system. The stepping stones across the streets weren't for rain water, but to keep clear of the sewage. Yuck!
An earthquake struck the area in 62 AD so many buildings had been damaged and the town was in the middle of reconstruction when Vesuvius erupted on 24 August 79 AD. Many people did not believe the eruption was a problem and thus did not leave. Many stayed in their homes thinking they were protected. But three days of falling ash resulted in burying the town.
Here is video of our pictures from the visit to Pompeii
| | |
| --- | --- |
| | |
| | Guide Book and Tickets |
| | |
| Our picture of Vesuvius | We were here!! |
| | |
| Map of Pompeii | Postcard |
| | |
| "Cave Canem" - First Beware of Dog "sign" - mosaic at the entrance to the House of the Tragic Poet | Postcard of top of Vesuvius |
As we exited the Pompeii excavation site, Alberto was waiting for us with the van. We drove down the Amalfi coast, stopping several times to take some pictures. It was rather windy on the coast, so the pictures of us have "wild hair" and I decided not to share those with you! We ended up in Sorrento and Alberto had arranged for us to have lunch in wonderful restaurant called La Basilica down an alley from the main square. It is actually a casual restaurant/pizzeria linked to the Ristorante Museo Caruso, a Michelin star restaurant. Similar food offerings, but less expensive. We ordered two pizzas and wine and had a wonderful lunch. The owner even brought us a glass of limoncello for an apertif on the house. I had been wanting to try this and was looking to possibly buy a bottle to take home. Well, limoncello is very thick and you definately taste the alcohol! Cross very sweet with lots of alcohol. Glad we tasted it, but no longer needed to buy a bottle to take home!!
After lunch we wandered the square, got a few souvenirs, and met back up with Alberto to return to the ship. A long day full of sights, sounds, tastes, and memories.
| | |
| --- | --- |
| | |
| Amalfi Coast | Amalfi Coast |
| | |
| Vesuvius looking across the Bay of Naples | Alberto - AP Tours |
| | |
| Sorrento | Sorrento square |
| | |
| Shopping street | House on bluff |
| | |
| La Basilica - great restaurant for lunch! | Postcard |
| | |
| Postcard | Postcard |
We returned to the ship about 4:30 and headed to the back deck to enjoy the sail away from Naples
| | |
| --- | --- |
| | |
| Vesuvius from port | Sailing Away from Naples |
| | |
| Sunset | Vesuvius at night as we sail out of the Bay of Naples |
This evening we enjoyed dinner and then went to the "High C's" show. The entertainers performed a selection of opera music. After a few dances and nightcap it was off to bed as we head to Palermo.

Postings before the Trip:
We are scheduled to arrive in Naples, Italy Tuesday morning, 20 March 2012 at 9:00 am.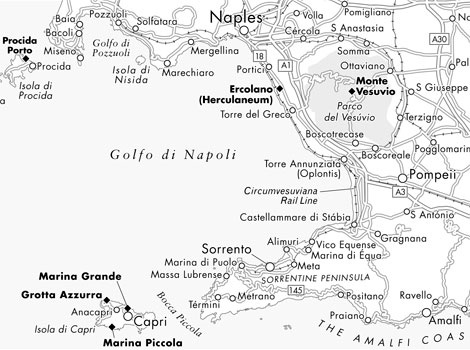 From Wikipedia - "Naples is a city in Southern Italy, situated on the country's west coast by the Gulf of Naples. Lying between two notable volcanic regions, Mount Vesuvius and the Phlegraean Fields, it is the capital of the region of Campania and of the province of Naples. Naples is known internationally for its rich history, art, culture, architecture, music, and gastronomy, and has played an important political and cultural role on the Italian peninsula and beyond throughout its 2,800-year existence.
Founded in the 9th-8th century BC as a Greek colony, Naples is one of the oldest continuously inhabited cities in the world. Originally named Παρθενόπη (Parthenope) and later Νεάπολις (Neápolis - English: New City), it was among the foremost cities of Magna Graecia, playing a key role in the merging of Greek culture into Roman society. Naples eventually became part of the Roman Republic as a major cultural center; the prominent Latin poet, Virgil, received part of his education in the city and later resided in its environs.  As a microcosm of European history, the city has witnessed the rise and fall of numerous civilizations, each leaving traces in its art and architecture. Although many Greek and Roman ruins are in evidence in Naples and its surroundings, the most prominent forms of architecture now visible derive from the Medieval, Renaissance, and Baroque periods.
Naples' historic city centre is the largest in Europe, covering 1,700 hectares, and is listed by UNESCO as a World Heritage Site. Over the course of its long history, Naples has been the capital of duchies, kingdoms, and one Empire, and has consistently been a major cultural center with a global sphere of influence, particularly during the Renaissance and Enlightenment eras. In the immediate vicinity of Naples are numerous sites of great cultural and historical significance, including the Palace of Caserta and the Roman ruins of Pompeii, and Herculaneum."
Update 27 November 2011: Naples is a thirty minute drive down the Amalfi coast to Mount Vesuvius and Pompeii. So close, unbelievable. We are scheduling a tour through a recommended tour guide to go see the ruins. What a fantastic opportunity!!
Update 22 January 2012: We scheduled a private tour to Pompeii and Sorrento through AP Tours Italy.
"Step back in time and explore a Roman city frozen in time, walk the streets and see where the Romans of 79 AD lived, worked, relaxed and entertained. Back to present day and on to Sorrento the heart of the Neapolitan Riviera, shop, sight see, or just people watch in the main square you won't be short of things to do.
 * 2 hours in Pompeii – the worlds most visited archaeological site with an Authorised Archaeological Guide for Pompeii
 * Free time in Sorrento
 * Historical lanes of Sorrento, lined with shops selling everything from giant lemons to local souvenirs
 * Enjoy a spectacular 360° view of the bay of Naples
 * Lunch in a typical Italian Restaurant
 * Drive part of the Amalfi Coast"
Description from AP Tours website. Click the link above to see more information about their tours in Italy.


| | |
| --- | --- |
| | |
| photo from destination360.com | photo from dsc.discovery.com |