Mediterranean Cruise 2015 - Venice to Istanbul to Athens
Update: 18 October 2015 - Pages for Ravenna and Trogir are available!
Update: 26 July 2015 - Pages for Venice and the Silver Spirit have been posted!
Update 15 February 2015: Port pages updated to include Shore Excursion plans! Nearly all of our excursions are half-day so we have time to explore the local area near the cruise ports. We will continue visiting UNESCO World Heritage sites, ancient places from mythology and more. It's going to be a wonderful time!
Update 8 February 2015: Some plans change... Amy and TJ won't be able to make the cruise. So sad! David and Lynn will join up with us in Istanbul and we will head to Athens by way of some great ports. We also finalized our flights, hotels, and made final payment for the cruise. Planning is also complete for shore excursions! It's all coming together quite well.

How about another trip to the Mediterranean? And go with your friends? Sounds like a great plan! We found another set of back to back cruises on Silversea, this time on the Silver Spirit. A little bit larger ship, but still small by comparison to most of the cruise lines. Working to find a cruise, or set of cruises, that Amy, TJ, David, Lynn, and us all wanted to do took a little work, but here we are! There are some repeat ports yet all of them are places we love to return.
This time we will start in Venice. We had a wonderful time there this year. There are a few more places to see, like the special collections in St Mark's Basilica, maybe a few hours more on Murano without a scheduled tour and factory. So starting in Venice is fantastic! We will travel down to Istanbul and get a return visit for a day. We loved Istanbul in 2012 and yet did not get to the Grand Bazaar, so that's definately on the list! Both cruises spend a day at Kusadasi. We will do the special tour of Ephesus with the Terrace Houses with the full group on the second cruise. We also hoped to get the evening concerts at Ephesus - but it appears they now charge for the concert so we probably won't do it unless they make it free as in the past. We did not get the concert this year as we traveled in May and Silversea only does the concerts in the summer months due to heavy rains and unsafe conditions earlier in the season. Finally we will end up in Athens.
We have settled on our hotels for pre and post cruise time in Venice and Athens. We are in the Hotel Grande Bretagne again as it is the perfect base for Athens touring and has a fantastic restaurant on the rooftop. We decided to book the Bauer Il Palazzio in Venice. It's in a great location and part of Silverseas hotel program as well as we can tie in the transfers as a package. Silverseas arranges everything and it worked very smoothly last year.
As our plans come together we will update the pages!

Pre and Post Cruise Schedule - We will stay in Venice for two nights before embarking on the Silver Spirit. We will stay one in Athens after we disembark.
All photos above from the hotel websites

Trip Itinerary:
Here are the maps and itinerary for the Mediterranean 2015 Back to Back Cruise!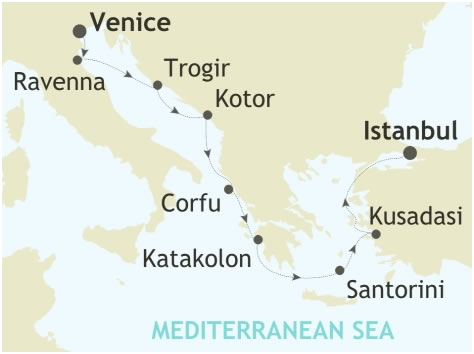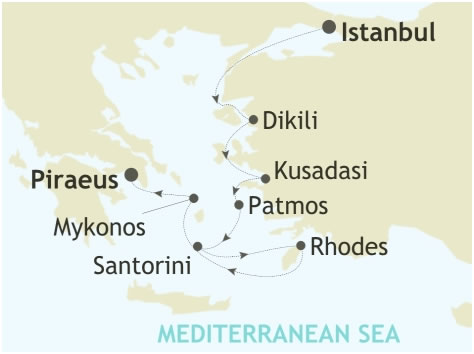 Maps from Silversea website
Day to Day Itinerary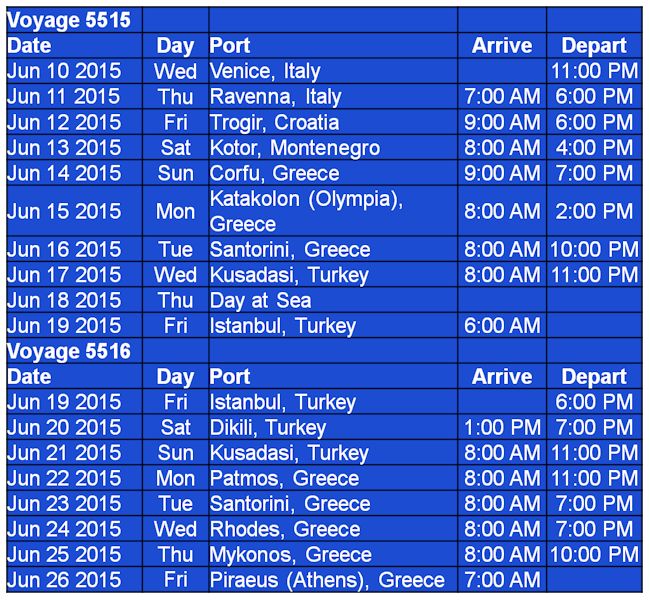 If you'd like to look for your own cruise click here -