Rome, Italy

We left San Antonio around 11:00 am on Monday 13 November and headed to Atlanta. After a layover we boarded a 767 to fly to Rome, nonstop. The trip over was probably the worst overseas flight we've ever had. Not the best way to start your dream vacation!
If you are ever given a choice between an older 767 or an Airbus 380 (or anything!) - take the Airbus. While we did travel business class which should provide some comfort, that is not the case on a 767. The business seats (which are lay flat) are hard and when you lay it flat, the foot area is so close you can't move or turn. Rather coffinlike and you feel trapped. Both of us were rather uncomfortable all night and not feeling too great when we landed at 9 am Tuesday morning in Rome.
| | |
| --- | --- |
| | |
| And we are on our way!!!! | Waiting in Atlanta for flight to Rome |
Good news though, things got better when we came through passport control to get our bags. Two ladies from Silversea were there waiting and escorted us to the baggage claim. They had already pulled our bags (correctly and without Silversea tags yet!) and then took us to our driver for the trip to the hotel. Again, another smooth ride from Aloschi Brothers, the contractor Silversea uses in Rome, and we were at Hotel Majestic.
The hotel is rated a "5 star", but not sure it earns it as we had another rough night. We did not have to wait very long for the room and finally were able to get our suitcases. While you would think we'd eat some lunch, nope - we crashed into bed for a nap and body clock reset!
About 5 pm we headed up towards our favorite restaurant, Ristorante Vladimiro, just as we had planned. The restaurant is only about a 5 - 10 minute walk from the hotel. Out to the side, up the stairs to the street behind to hotel, down a block, left and a block and half we were there!
Unfortunately they were not open for dinner service yet, so we made a reservation for 6 pm and wandered the area a bit talking about the last time we were there and how it was during that trip that we first met David and Lynn!
Finally it was time! And as we had hoped, expected, and dreamed of, dinner was superb! Bruschetta, Pasta Trio (extraordinary), Scallopine di Limon for me and a Lamb dish for Randy. Accompanied by a fantastic Chianti Classico Reserva and we were happy. Ecstasy came after dinner with their tableside "deconstructed" Tiramisu! We had enjoyed it so much last time, we knew we wanted it again. And since we've returned I've learned to make it, including fresh marscapone cream from scratch, here at home! And it's pretty close to what we had at Vladimiro. Check out the video I took on my IPhone!
So back to the hotel we headed. We headed toward the bar for an after dinner drink and were stopped by some event people. Apparently they had booked out the entire bar and restaurant for the evening and no hotel guesets were allowed access! We could have a drink in our room! Not why you come to Rome - to drink in your room. So that was a strike against the hotel in our opinion.
Our room was hot and there was no AC as the hotel is older and uses a two pipe system. They had switched over to heat only. Thank goodness for European windows and being several stories above the street level! We opened the windows for a bit and then closed them after the room had cooled down and tried to go to sleep. Well the mattresses were like the stone couches from ancient Rome and the room got hot again. We opened the window a bit and tried to rest until time to get back up. I admit the shower really helped! After breakfast, buffet style and actually fairly good, we checked out and waited for the bus to port.
If we had this to do again we would stay back at Hotel Eden (which is actually only two streets up behind the Majestic). Perfect hotel, impeccable service, and wonderful beds! Everything else is great there as well including the rooftop terrace and view of Rome and the Vatican. It rates the 5 stars!
The bus ride was uneventful and we arrived at the pier around 1 pm and headed onto the ship. A few minutes later we checked into our cabin and then headed to the pool deck for lunch. And so our adventure begins...on to Naples and Sorrento!!
| | |
| --- | --- |
| | |
| View from Hotel Majestic Terrace | Steps beside the hotel - heading to Vladimiro |
| | |
| Vladimiro sign on corner Via Aurora and Via Ludovisi | Outside Ristorante Vladimiro |
| | |
| Vladimiro Christmas Town window | |
Tableside Tiramisu

Pre-cruise Post
We will fly into Rome around 9:30 am on 14 November. Off to the hotel and reset our clocks!
Dinner will be at Ristorante Vladimiro on Via Aurora. It's just a few minutes from the hotel. We discovered it in 2014 when we ended a cruise in Rome and stayed at the Hotel Eden. This is the trip when we met David and Lynn and where we ate our last dinner together of the trip. It was extraordinary meal. We can't wait to go back!
We head to the ship the next morning and then off we go!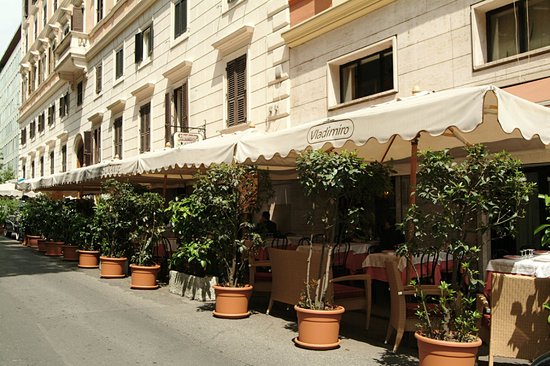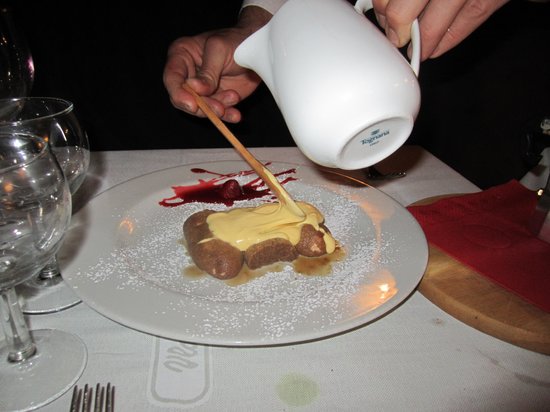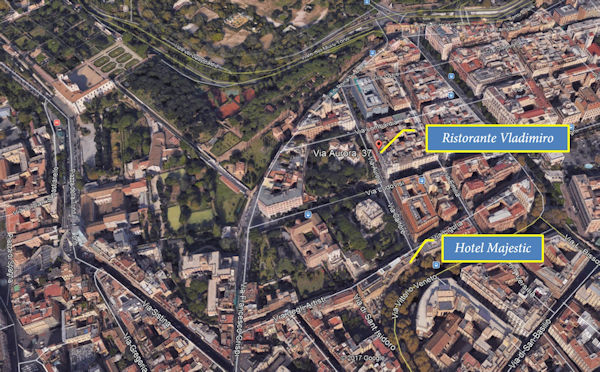 Map - Hotel to Restaurant!

If you'd like to look for your own cruise click here -