Muscat, Oman

Muscat was a vast improvement on Salalah. We did schedule a ship's tour to sail in a traditional Dhow around the area for a better view of the country and city. Muscat is the capital and is one of the cleanest places we've ever visited. It provided a complete contrast to our time in Cairo.
So, believe or not, after 18 days of cruising, we took a "cruise" in a Dhow. Dhow is the generic name of a number of traditional sailing vessels with one or more masts with settee or sometimes lateen sails, used in the Red Sea and Indian Ocean region. Historians are divided as to whether the dhow was invented by Arabs or Indians. Dhows are trading vessels primarily used to carry heavy items, like fruit, fresh water or merchandise, along the coasts of Eastern Arabia (Arab states of the Persian Gulf), East Africa, Yemen and coastal South Asia (Pakistan, India, Bangladesh). We sailed slowly along the coast line seeing the forts, embankments, views of the Sultan's Palace and Parliment. Muscat is not a large city but is spread salong the coastline.
After the cruise we went to the Mutrah Souk and bought a few gifts for family and my team at work, then we found a lovely scarf shop where the owner explained the difference between a real Pashmini scarf, which is a type of wool, not the scarf itself, and other scarves. We saw some original scarves that are worth thousands of dollars which were so beautiful and intricate in the handwork. Randy purchase a couple of the lesser scarves for me to enjoy at home!
Soon we were back on ship and headed to Dubai, our last stop and the end of our journey.
| | |
| --- | --- |
| | |
| Two dhows waiting for us! | Cruising the Muscat coast |
| | |
| Forts | |
| | |
| View of Oman Parliment | View of the Sultan's Palace and an old fort - still in use |
| | |
| VIew of a Dhow | Intricate carving detail |
| | |
| Klug's on the Dhow! | |
| | |
| Sultan's Palace | |

Pre-cruise Post
Our seventh port of call on the cruise is Muscat, Oman. Muscat is the capital of Oman and we may find some interesting sites to visit while we are there. We have not made a plan yet, however reading about the city and its history there is a fort, mosques, museums and the old palace that may be interesting to visit for the day.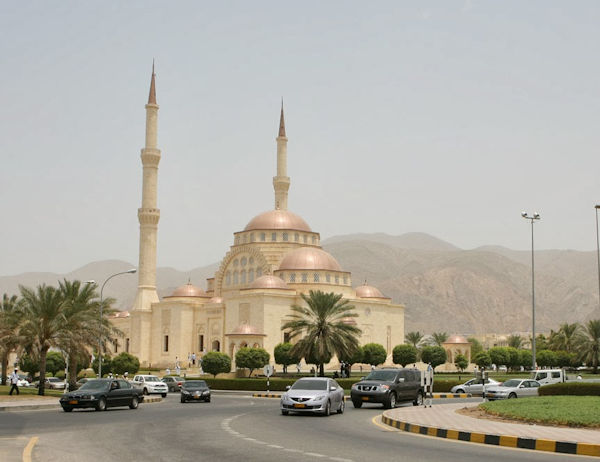 Sultan Qaboos Grand Mosque from www.tourist-destinations.com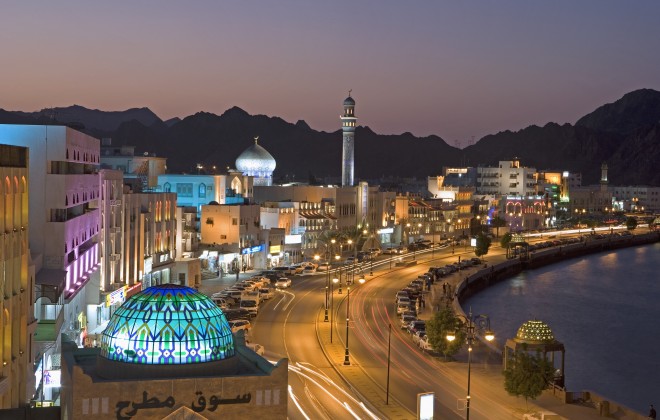 If you'd like to look for your own cruise click here -