Egypt Cruise 2017 - Rome, Italy to Dubai, United Arab Emirates

What an incredible trip! When we saw the itinerary, then booked the cruise, and then started to plan, we really could not imagine how fantastic it would actually be to be at the pyramids; be at Luxor; be in the Valley of the Kings. While we began in Rome and had a lovely, but wet stop, in Naples/Sorrento, the real focus of our journey was Egypt. Number One on Randy's "Bucket List".
We are building the website together to share our pictures and our journey. Click the different ports of call in the left menu to "travel" through our journey with us.

Pre-cruise Post
We are heading back overseas to Europe to travel across the Mediterranean to Egypt, and then through the Suez Canal to the Persian Gulf. After all these years we are finally going to Egypt to see the pyramids and more...The itinerary is below.

Pre Cruise Schedule - As is our normal travel we will fly to Rome and arrive the day before sailing. This gives us some extra time in case anything happens or flights get delayed. We will be staying at the Hotel Majestic.
Photos above from the official websites - click the links to access

Trip Itinerary Map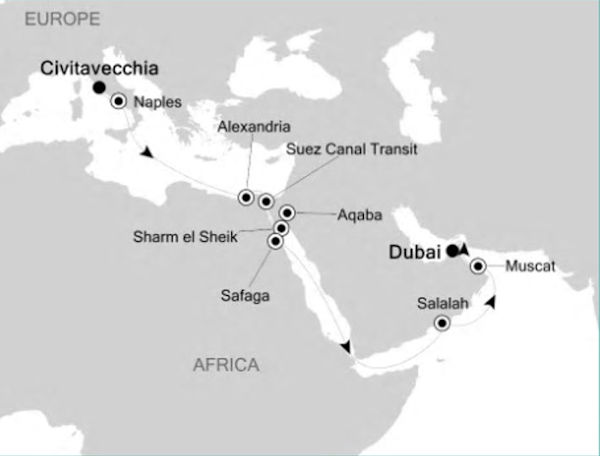 Map from Silversea website
Day to Day Itinerary
| | | | | | |
| --- | --- | --- | --- | --- | --- |
| Trip Day | Day of Week | Date | Port | Arrive | Depart |
| Day 1 | Mon | Nov 13 | Depart for Rome | | 12:00pm |
| Day 2 | Tues | Nov 14 | Arrive in Rome - Hotel Majestic | 9:00 am | |
| Day 3 | Wed | Nov 15 | Depart Rome-Civitavecchia | | 6:00 pm |
| Day 4 | Thurs | Nov 16 | Naples, Italy | 8:00 am | 5:00 pm |
| Day 5 | Fri | Nov 17 | Day at Sea (Crossing the Mediterranean) | | |
| Day 6 | Sat | Nov 18 | Day at Sea (Crossing the Mediterranean) | | |
| Day 7 | Sun | Nov 19 | Alexandria, Egypt | 8:00 am | |
| Day 8 | Mon | Nov 20 | Alexandria, Egypt | | 2:00 pm |
| Day 9 | Tues | Nov 21 | Day at Sea (Suez Canal Transit) | 3:30 am | 5:30 pm |
| Day 10 | Wed | Nov 22 | Sharm El Sheikh, Egypt | 6:30 am | 7:00 pm |
| Day 11 | Thurs | Nov 23 | Aqaba, Jordan | 8:00 am | 6:00 pm |
| Day 12 | Fri | Nov 24 | Safaga, Egypt | 7:00 am | 10:00 pm |
| Day 13 | Sat | Nov 25 | Day at Sea (Red Sea) | | |
| Day 14 | Sun | Nov 26 | Day at Sea (Red Sea to Gulf of Aden to Arabian Sea) | | |
| Day 15 | Mon | Nov 27 | Day at Sea (Red Sea to Gulf of Aden to Arabian Sea) | | |
| Day 16 | Tues | Nov 28 | Day at Sea (Red Sea to Gulf of Aden to Arabian Sea) | | |
| Day 17 | Wed | Nov 29 | Salalah, Oman | 8:00 am | 2:00 pm |
| Day 18 | Thurs | Nov 30 | Day at Sea (Arabian Sea) | | |
| Day 19 | Fri | Dec 1 | Muscat, Oman | 8:00 am | 7:00 pm |
| Day 20 | Sat | Dec 2 | Dubai, UAE | 5:00 pm | |
| Day 21 | Sun | Dec 3 | Dubai, UAE | | 8:00 am |

If you'd like to look for your own cruise click here -